Surprisingly, I have only ever had one commercial advent calendar, and that was when I was a vegan! Other than that, my parents would wrap up 20ps and Maltesers in tin foil and use a knitted calendar with a picture of Santa in a snowy scene at the top (am I the only one?).
Gone are the days of getting excited over a 20p unfortunately - I didn't even know you could get
beauty
advent calendars till last year and there are some ridiculously expensive ones out there. Don't worry though, this
Wedgewood Advent House
from Harrods has been reduced to £9,600 instead of £12,000 - what a bargain!!
Here are my top 5 advent calendars featuring a mixture of goodies and prices. I was going to include the
Dan and Phil
advent calendar but it's out of stock *cries*.
3. Ciaté London | Mini Mani Manor | Reduced to £34.30!
My Top 5 Advent Calendars
Two years ago, I embarked on a 30 day mission to live a vegan diet. Why? I like a challenge and I wanted to see how I coped with a supposedly healthier lifestyle.
Going all out vegan was definitely too much for me -
go team sausage!
However, always looking for ways to improve my health and lifestyle choices, I decided to try out
Graze
after a few of my friends recommended it.
So, what is Graze all about?
It's a bit like beauty box subscriptions, but with food! How amazing does that sound already?!
£3.99 per box
averages out at
£1 per portion
which I think is pretty reasonable (did I mention free delivery?). And, the Nibble Box will fit through your letterbox, so you don't need to be in to receive it. The best thing however, is that the company offers a wide selection of
healthy choices
.
You can pick which foods you would like to try, which foods you definitely
do not
want to taste and those that you want delivered over and over again because they're just so darn good (like the chocolate brownie - oh my goodness gracious me!!)
Source:
Graze
Do you see how good that brownie looks?! There really is a huge range of options so there is something for everyone. You can order
several types of boxes
including a
Chocolate Box
, a
Breakfast Variety Box
and the most popular: a
Nibble Box
.
I believe boxes can be ordered
fortnightly
at a
minimum
, but you can also order weekly or more than once a week if you wish. And you have the option to
book in holidays
so the company know when not to deliver. Each box contains
four punnets
(the containers) which are actually a good serving although they may look small. I have certainly been filled up after each serving!
One of my favourite types of food have been the 'dips and dippers'.
Fancy trying Graze?
If you use my friend code (MAIRIL4RP) you can get your first, fifth and tenth box for free! You are very welcome! And you can cancel at any time, even after your free first box.


Think one of your friends will like Graze?
You could give your friend my code (MAIRIL4RP)
or
you could buy them a
gift voucher
or send a
gift box
with your own personalised message and, again, free delivery! Perfect for Christmas!
***
If you'd like to find out more about Graze, you can read their informative
FAQs here
and visit the site's
homepage here
. Happy snacking!
Have you tried Graze before? What's your favourite snack - any recommendations?
Trying to Be Healthy with Graze
I've never had much luck with
fake tan
. I'm quite happy with my own pale complexion, but after being asked by
Vita Liberata
if I would like to test out a product from the new
NKD SKN
collection, I decided to try to conquer fake tan once and for all.
I was sent the Tinted Tan Mousse - Medium which is £14.95 (but only £6.72 exc. delivery when you use my discount code (see end of post)).
The bottle boasts five claims:
Easy application
Dries instantly
Zero smell
Natural extracts
Fades perfectly
The mousse texture meant it blended beautifully and the tanning mitt allowed a streak-free application as long as I made sure to blend the edges out before it dried. It does dry very fast which is a great advantage as you don't have to wait to get dressed or go to bed in fear of stained sheets!
The 'zero smell' claim was mostly true as it was odourless during application, however I could smell a tinge of that biscuity scent during showering.
Hopefully my white-as-snow legs haven't blinded you! I was really pleased with the intensity and hue of the tan from just one layer. It definitely
wasn't orange
and provided
good even coverage
.
As you can probably see, I have 'strawberry legs' and I found the tan did emphasise this. It also stuck rather oddly to a dry patch of skin I have from a shaving accident - but that's my own fault!
Aside from the strawberry legs, which I am hoping to fix with
this article
, I was really pleased with how my legs turned out. My last fake tan experience left them streaky but this time was much better. I would confidently flaunt them if it wasn't for winter and my 600 denier tights!
The tan applied evenly on the rest of my body, including my rather hairy arms! Although elbows and knees are meant to be tricky spots, I didn't find either of these a problem, although my feet were a little darker than the rest of me.
As for the 'fades perfectly' claim, I did notice the water in my first shower was tinted brown, however there was no noticeable change once dried.
The
tan lasted about
five days
which was two days short of what the bottle claimed, however I did have a bath with lots of bubbles which probably contributed to this (read about the LUSH bath bomb I used
here
).
In order to match my face to the rest of me, I used
Collection's Lasting Perfection Foundation
in Porcelain (which is definitely
not
the shade of white porcelain!) and bronzer. And don't worry, I
did
blend it onto my neck.
Overall, I think the
NKD SKN
collection is a fantastic affordable option for those wanting an easy but gorgeous fake tan. You can browse the
whole range
and if you enter my code
WISHED45
at checkout, you'll receive
45%
off on your total order! That's a pretty good deal if I do say so myself, so why not try it out or buy some as Christmas presents! Hurry though, the code expires on
December 5th.
Good luck with your tanning adventures!
Vita Liberata NKD SKN Tinted Tan Mousse Review + Discount Code
Last night I hosted my
very
late 17th birthday party and, as it is nearing the
party
season
, I thought I would show you my look -
outfit,
makeup
and
hair
- to hopefully provide some inspiration!
This post is focusing on my outfit and next weekend will feature the makeup and hair - the curls took me under 10 minutes to do!
I wanted to experiment with
contrasting patterns
(stripes and spots) and luckily the famous combination of navy, red and white allowed me to pull the look off.
But
shorts
- in
winter?!
Jenny's beautiful birdcage necklace was a gift - it's so pretty!
Although crop tops may not be the most practical choice for winter (unless you're indoors like I was or can wear a thick jacket), I think sophisticated shorts are a great piece to play about with. And by 'sophisticated' I mean not denim haha. I'm loving the leather shorts at the moment but not sure I'm brave enough - yet.
The great thing about shorts is that you can layer them over tights, leggings etc. when the colder weather does, inevitably, take over from summer. I am currently wearing 600 denier tights - yup, 600! The best bit about shorts though? You can wear them when the sunshine makes its return too - but without all the layers!
Follow me on
bloglovin
and my other social media accounts or subscribe by email in the sidebar to be notified when the
makeup
and
hair
part of this post is uploaded!
***
I will definitely be stocking up on some more shorts and maybe
skorts
too - they're great when you want to wear a skirt but have to play Twister and don't want to flash anyone. Life lesson there - sadly from experience.
Will you be wearing more shorts this season? Or perhaps you have another unusual AW favourite - let me know!
I think I may have discovered my new favourite bath bomb. My all-time favourite
was
Golden Wonder, but
Shoot For The Stars
from
LUSH
may have knocked its Christmas co-star off the top spot! It was so good that I made a
video
of it! (see it below)
I absolutely adore LUSH's dreamy description:
"Paint the swirling colours of the night sky over the surface of your bathwater with this multi-coloured bath bomb. Drop this in your bathwater and watch it shoot around the bath releasing multiple colours before leaving a trail of quicksilver. As the spinning and swirling orb comes to a standstill, enjoy the sweet scent found in Honey I Washed The Kids and the calming, shimmering midnight blue water."
I used the flash so you can see the beautiful silver shimmer!
It truly is like bathing in a night sky. The bright purple and pinks remind me of
galaxies
while the
silver shimmers
amongst the
inky indigo
water look just like a
million stars
. Did I mention there are
confetti stars
that dissolve
and
the dark colour leaves
no residue
! Gosh, I think I'm in love.
I was so shocked when the bath bomb started
spinning
round and round as I had no idea what to expect beforehand!
Foam spirals
and
bright pink bubbles
started
shooting
out from the little ball as it
whizzed
its way around my tub. I decided to take a video of the bomb in action before I knew about its crazy ways and I am definitely glad I did!
Isn't it gorgeous?? The only bad thing for me was that I could barely smell the Honey I Washed the Kids scent! So I guess this is a good product for people who hold their breath when walking past LUSH stores haha.
What is your favourite seasonal LUSH item?
Mairi x
Copper Pink
LUSH Shoot For The Stars Bath Bomb
My love for Nutella is indescribable. It cannot be put into words. However, if someone gifted me even just a small jar of the good stuff, I would
smother
them with hugs. And who doesn't like hugs? It's a win-win situation.
I know many other Nutella fans will share my feelings and so if you know someone like me, here is the perfect gift guide. Highlights include
etsy accessories
,
a live Pinterest feed
and DIY
vegan
Nutella!
If you do decide to gift any of these ideas, you'll be smothered with hugs in no time! Don't say I didn't warn you ;).
Giant Tub of Nutella
Okay, so this one might seem a bit obvious but ultimately, a Nutella lover's favourite thing is the spread itself, and
the bigger the jar, the more hugs
for you. This
1kg Limited Edition jar from Amazon
is the perfect Christmas gift for £25.50 however the shipping costs are
pretty
sky high - check before you buy! But check quickly because there's only six left in stock.
**3kg jar that is in stock (unlike the one above) can be found
over here**
T-shirts
Personalised Label
A
personalised Nutella jar
that I can keep forever and use as a vase or pencil holder in my room so I don't forget my name? YES PLEASE. The site says "visit the Foodhall in all Selfridges stores to get your personalised Nutella". Unfortunately you can't order online (or get it delivered I believe) and I can't seem to find a price either! Oh and I just realised all Selfridges stores are in England. But, if you live elsewhere, perhaps a nice English blogger who is feeling the Christmas spirit can help you out!
Accessories
Recipes
Nutella: The 30 Best Recipes (Cookery) is the #1 Best Seller in Puddings & Desserts on Amazon so I guess it can't be that bad! | £6.99
Know someone who loves everything about Nutella except the non-vegan bit? Then this recipe is for you.
Have a go at making this White Chocolate Nutella - the recipient will really appreciate the effort.
If you or your giftee isn't a domestic goddess in the kitchen, purchase Hotel Chocolat's take on the popular spread for just £6. I can personally recommend this.
Finally, a very easy gift is to provide this link on a lovely piece of card, for example. It shows all the latest pins from Pinterest tagged with "Nutella recipes" and will update every time you visit the link! I shortened it for you (http://goo.gl/joQNvS) so it looks nicer too - no need to thank me.
The Perfect Spoon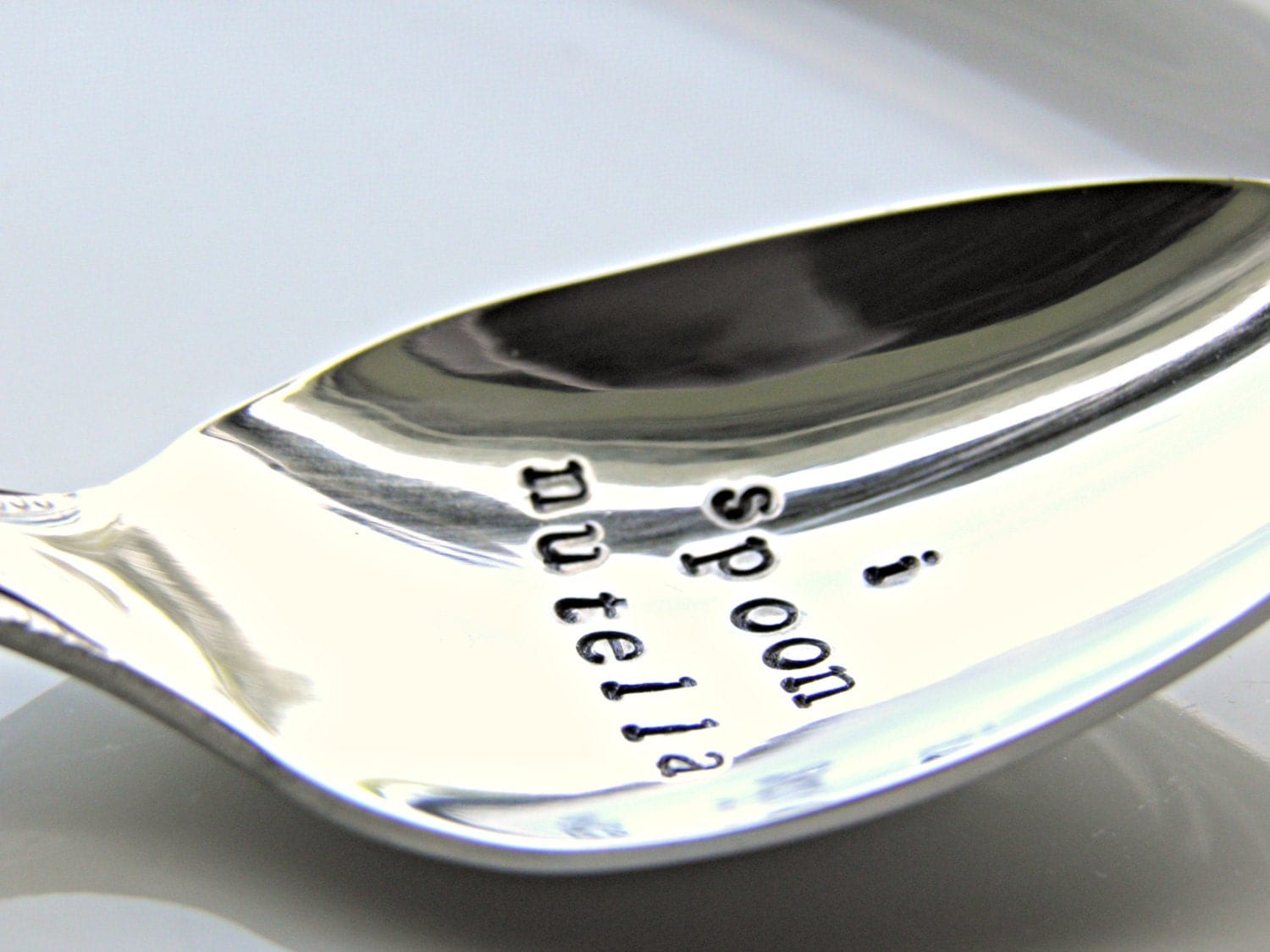 And of course to eat all that Nutella you're going to need the perfect spoon, aren't you? Well, you can order your very own
hand-stamped spoon
from
PeggysPassions
on Etsy, starting from just £5.24.
***
Gosh, now all I can think about is Nutella! I am definitely going to be baking
these goodies
very soon. Wish me luck!
Hopefully I've given you some food for thought (pun totally intended) for your Nutella loving friends and family members. I know if anyone gave me any of these gifts, I'd be thrilled. Except the earrings because I don't have my ears pierced, but you get the gist.
Good luck with your gift buying and let me know if you have any chocolate or beauty related gift guides - I'm really struggling for my friends this year!
Mairi x
(yup, still haven't made a new signature...)
Gift Guide for Nutella Lovers
Recently I was offered the amazing opportunity to meet
Carolyn Baxter
; a local dress designer, boutique owner
and
Youtube partner with almost 22,000 subscribers!
The point of the event was to hear Carolyn's story of how social media led her to launch her own successful fashion business. She has had such an exciting past four years with the rapid growth of her
YouTube channel
, presenting
New Look TV
in Glasgow and many more fantastic opportunities - not to mention the startup of her own business!
The boutique (44 London Street) is decorated beautifully, with all of Carolyn's gorgeous designs displayed for customers to browse.
Carolyn described her designs as 'red carpet' dresses which I totally agree with. Each piece has unique features and is crafted flawlessly in her studio. I was very pleased when we were allowed to try the dresses on, and after describing the sort of prom dress I am wanting for next year, I was ecstatic when Carolyn had exactly what I was looking for!
The chiffon silk train is detachable, meaning you can wear
the dress
short or long - perfect for my party animal prom dancing ;). Priced at £220 it is perhaps slightly above my budget, but a girl can dream!
As you can see, in addition to the long elegant gowns, Carolyn also has shorter pieces, many of which have been hand-beaded! The amount of effort that goes into her designs is phenomenal and definitely justifies the price tag.
Here is a picture of the lovely lady herself (and her adorable pug!)
Us lucky bloggers also got the chance to meet
Stacey Whittaker
, a makeup artist who has, much like Carolyn, started her own business. She used to work for MAC cosmetics but decided to start up her own company called
Pouts and Pinups
. The salon is located in Fife where Stacey has created quite a name for herself with over 3000 likes on her
Facebook page
!
Providing makeup masterclasses, hair services and makeovers for special occasions, Stacey seems to be a woman of ambition and I was lucky enough to have my makeup done by her on the day. It was the first time I have ever worn MAC products and I never wanted to wash my face again haha! I'm definitely considering booking an appointment for my prom at the reasonable price of £35.
To finish off, here is a lovely collage I created (just for you!) from the day. My makeup and hair has been beautified in the centre right picture by Stacey, if you're wondering. It was pretty good to get all dolled up before I headed off for a dinner date - not bad eh!
If you'd like to find out more about Carolyn and Stacey, their links are provided below:
Carolyn Baxter
Stacey Whittaker
Finally, thanks to
S1 Jobs
for organising this event.
Mairi x
(Yeah, I still need to make a new signature haha!)
Photo credit: talti from morguefile.com
Changing my blog name was definitely not an easy decision, but I believe it was a necessary one.
Blogging since June has allowed me to see what direction I want to head in. I have had the chance to experiment with different topics such as food and events in Edinburgh and even fashion, when I initially started off with the idea of a beauty blog.
I now feel that I understand myself and my hopes for the blog more and chose to totally rebrand to reflect this change. Moving to Blogger was the first step as my old platform meant I couldn't use Bloglovin! Click here if you'd like to follow me on the site!
Of course, I am still 'on a journey' (that sounds so cheesy) of blogging and this excites me! However, Wished for Ruth unfortunately had to go due to several reasons:
There are no harsh sounding letters which makes it hard to annunciate
People often miss out the ed when spoken, and then typed
People mistake me for Ruth when my name is actually Mairi (can't blame 'em really)
A few of my peers said they initially associated my title with the 'Make a Wish' foundation for children with life-threatening illnesses, which is definitely not what my blog is about
I have difficulty pronouncing my ths (I'm hoping to start a YouTube...)
I then contacted Wendy from ThankFiFi (love her blog) as she is often mistaken for Fifi (and once Mr K - her dog's name!) for some advice. She told me I shouldn't change my name solely based on other people's opinions, especially if I have a strong connection and love for it. However, I realised I had grown out of Wished for Ruth so decided to take the plunge.
And, finally, I really wanted to overhaul everything to motivate me after realising I needed a change - including my blog name.
Enter...
I love to say Copper Pink. It's easy to pronounce without mumbling, it has a lovely hilly sound and it's just a fun phrase in my opinion.
I love the colour.
I love how pink is a stereotypical feminine colour, yet copper is an unusual twist. I like to transfer this meaning to my blog. As in, yes, I do blog about beauty, fashion, lifestyle (whatever that really is) etc. but I hope to add my own personal twist - the copper element. A bit of yin and yang going on in that logo.
I love my copper pink cat ring (you can view it here). I've worn it for around three years now and, it may sound silly, but I believe it gives me confidence in everyday situations. Plus, I love cats.
And that's why I changed my blog name. I do hope you stick around and please contact me if you're in a similar situation - I'd love to help if I can.
Thank you for reading,
Mairi
Copper Pink
(I'll need to make a new signature now I suppose!)
Why I Changed My Blog Name
Follow my blog with Bloglovin
This week I got my first taste of working in the fashion industry by helping out with
Metropolitan Fashion
's catwalk show, displaying Christine Watson's "A Touch of Pink" collection. And? I loved it!
My role was to run the social media accounts and I have some lovely Instagrams to share with you below. The experience was very hectic but incredibly fun and the atmosphere was just fantastic.


"A Touch of Pink" Fashion Show in Pictures