My love for Nutella is indescribable. It cannot be put into words. However, if someone gifted me even just a small jar of the good stuff, I would
smother
them with hugs. And who doesn't like hugs? It's a win-win situation.
I know many other Nutella fans will share my feelings and so if you know someone like me, here is the perfect gift guide. Highlights include
etsy accessories
,
a live Pinterest feed
and DIY
vegan
Nutella!
If you do decide to gift any of these ideas, you'll be smothered with hugs in no time! Don't say I didn't warn you ;).
Giant Tub of Nutella
Okay, so this one might seem a bit obvious but ultimately, a Nutella lover's favourite thing is the spread itself, and
the bigger the jar, the more hugs
for you. This
1kg Limited Edition jar from Amazon
is the perfect Christmas gift for £25.50 however the shipping costs are
pretty
sky high - check before you buy! But check quickly because there's only six left in stock.
**3kg jar that is in stock (unlike the one above) can be found
over here**
T-shirts
Personalised Label
A
personalised Nutella jar
that I can keep forever and use as a vase or pencil holder in my room so I don't forget my name? YES PLEASE. The site says "visit the Foodhall in all Selfridges stores to get your personalised Nutella". Unfortunately you can't order online (or get it delivered I believe) and I can't seem to find a price either! Oh and I just realised all Selfridges stores are in England. But, if you live elsewhere, perhaps a nice English blogger who is feeling the Christmas spirit can help you out!
Accessories
Recipes
Nutella: The 30 Best Recipes (Cookery) is the #1 Best Seller in Puddings & Desserts on Amazon so I guess it can't be that bad! | £6.99
Know someone who loves everything about Nutella except the non-vegan bit? Then this recipe is for you.
Have a go at making this White Chocolate Nutella - the recipient will really appreciate the effort.
If you or your giftee isn't a domestic goddess in the kitchen, purchase Hotel Chocolat's take on the popular spread for just £6. I can personally recommend this.
Finally, a very easy gift is to provide this link on a lovely piece of card, for example. It shows all the latest pins from Pinterest tagged with "Nutella recipes" and will update every time you visit the link! I shortened it for you (http://goo.gl/joQNvS) so it looks nicer too - no need to thank me.
The Perfect Spoon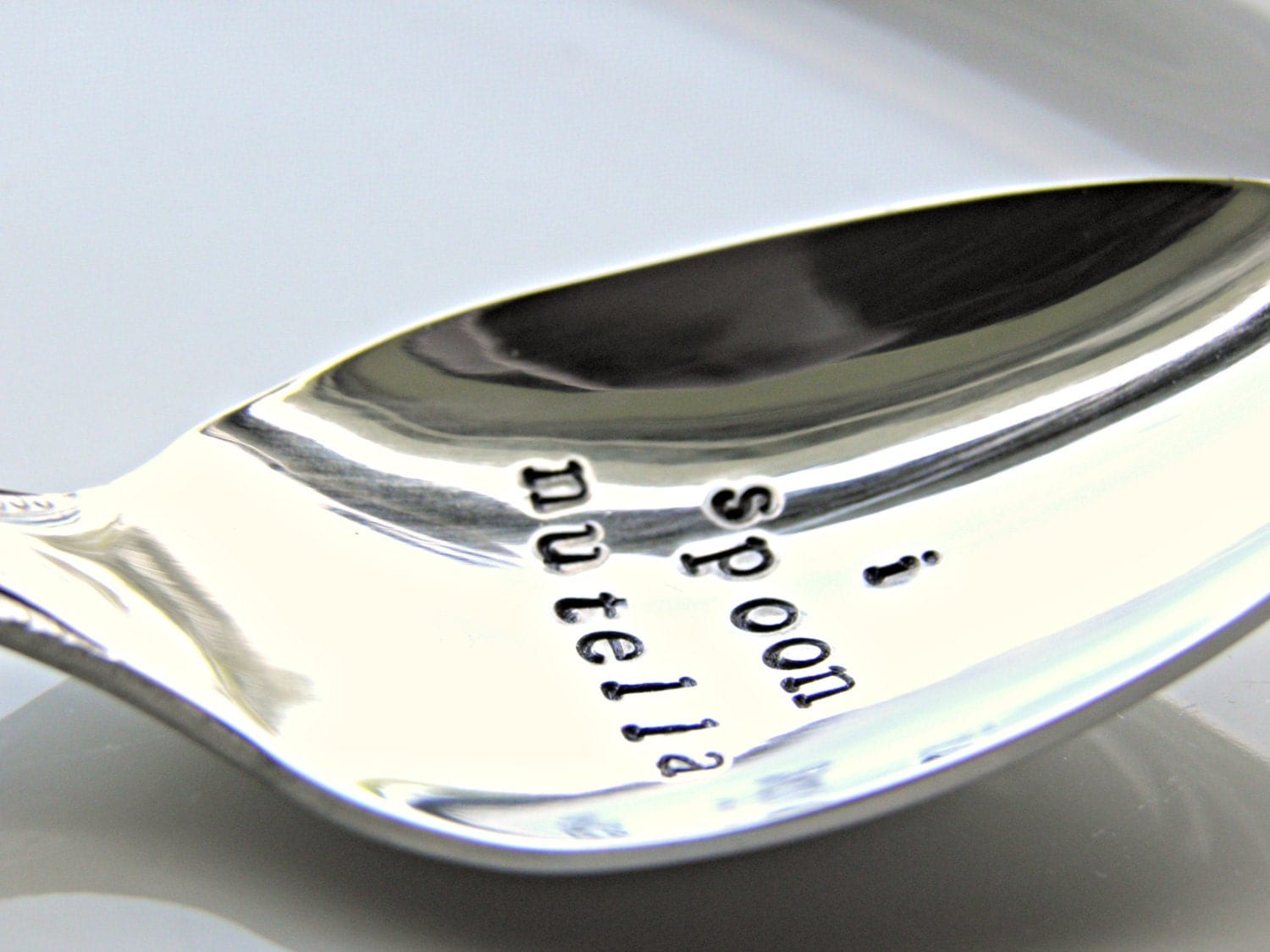 And of course to eat all that Nutella you're going to need the perfect spoon, aren't you? Well, you can order your very own
hand-stamped spoon
from
PeggysPassions
on Etsy, starting from just £5.24.
***
Gosh, now all I can think about is Nutella! I am definitely going to be baking
these goodies
very soon. Wish me luck!
Hopefully I've given you some food for thought (pun totally intended) for your Nutella loving friends and family members. I know if anyone gave me any of these gifts, I'd be thrilled. Except the earrings because I don't have my ears pierced, but you get the gist.
Good luck with your gift buying and let me know if you have any chocolate or beauty related gift guides - I'm really struggling for my friends this year!
Mairi x
(yup, still haven't made a new signature...)